How To Use Design to Increase Customer Referrals
This is a guest post by Raúl Galera of ReferralCandy.
Customer referrals are one of the most cost-effective marketing strategies available. According to The McKinsey Global Institute, word-of-mouth marketing generates more than 2X the sales of paid advertising. Similarly, the authors Villanueva, Yoo, and Hanssens state that customers acquired through word-of-mouth spend 2X more than customers acquired through traditional marketing.
A great way to get more word-of-mouth sales for your ecommerce store is by setting up a referral program, giving your customers a direct incentive to refer your brand to their friends.
One caveat: Asking for referrals isn't always easy. When and how you ask is important if you want to get as many customers as possible joining your referral program.
Some companies include referral links in their invoice emails, but we don't necessarily recommend it. First of all, simply having your customers' attention is no guarantee that they're ready to refer you yet. And second, asking for a referral warrants a beautifully crafted email. Don't you think your customers deserve a little better than a referral link at the end of a boring invoice?
We've been setting up referral programs for ecommerce stores since 2010, and we've seen thousands of brands asking their customers for referrals. Here are some of the best designs we've seen, and how it helped companies get more referral sales:
Keep it simple
People get dozens of emails every day and can barely keep up with all the notifications they receive. According to MailChimp, people generally spend less than 15 seconds reading marketing emails. Make sure your email gets straight to the point!
Brooklinen included an animated GIF to tell their customers about their referral program, which is eye-catching and exciting. It's also very short, taking less than 2 seconds to explain how their referral program works: REFER FRIENDS. GET PAID.
Make it appealing
Design is everything. A well-crafted combination of visuals and copy can get your customers excited about joining your referral program. You can also use your referral emails to showcase products. This is something that our customer ZoosHoo, a retailer that sells stylish women's shoes, did here: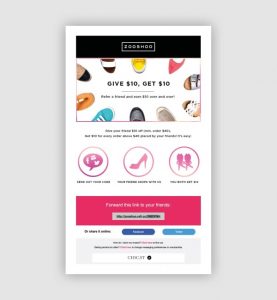 Zooshoo used the header image to show some of their products, as well as explain the benefits of their referral program. They also added easy-to-recognize visuals that explain the referral program step-by-step.
Be consistent with your brand
You're asking your customers to be your ambassadors, which means you need to ensure they feel like they're representing something their friends will love (and will make them look good).
Ezpz did a great job by including a fun image that not only uses the company colors (pink and green), but also reflects the playful aspect of their branding. It's also so bold that it's impossible to miss once you open it.
Are you struggling to get more word-of-mouth sales? Setting up a referral program is a great way to incentivize your customers to promote your brand.
Sign up on ReferralCandy using this link to get an extended free trial (60 days instead of 30).