View your logos
and keep generating more designs
Save your favorites
and see how they look on t-shirts, business cards, and other products
Customize your logo
by changing fonts, colors, icons, spacing and more
Origin story
Designed for any entrepreneur who cares about their branding, Logojoy empowers anyone to get professional quality design quickly, and at a price they can afford. Best of all, using Logojoy is like sitting next to a designer thanks to its groundbreaking, AI-driven approach.
Logojoy has been featured in TechCrunch, Lifehacker, Creative Review, The Globe & Mail, CBC, and more. Based in Toronto, the company's office mascot is an Australian Shepherd named Calvin.
Dawson Whitfield
CEO
Rares Crisan
CTO
Cameron Monagle
Intermediate Developer
Emma Hunt
Head of Talent Acquisition
Felicia Cusi
Head of Customer Success
Andre Neves
Customer Success Manager
Kaejon Misuraca
Junior Designer
Calvin
Chief Dog Officer
Kris Davis
Customer Success Manager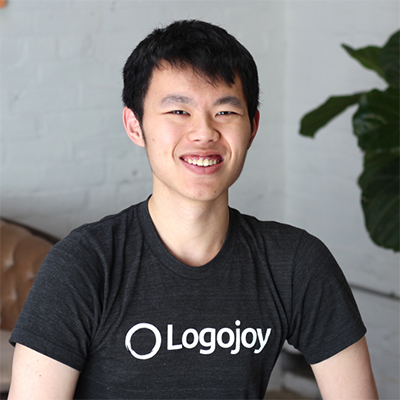 Paul Xu
Product Engineer
Erin Letson
Senior Content Marketer
Jose Bento
Senior UI/UX Designer
Mike Bell
Front End Developer
Michael Irvine
Senior Growth Marketer
Hanna Kim
Growth Marketer
Andrew Martin
Data Scientist
Steph Metcalfe
Office Manager
Chanelle Hartwig
Customer Success Manager
Lauren Greenway
Developer
Kim Lavia
Growth Marketer
Ysabel Enverga
Junior Designer
Kiah Quirion
Customer Success Manager
Logojoy mission statement - We're using technology to automate design and help every entrepreneur in the world get off the ground.
We're located in downtown Toronto
Join the team at Logojoy
Want to join a high-growth company that's passionate about technology and design?
View openings